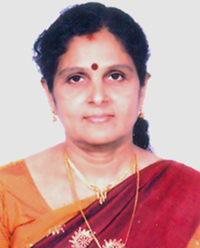 "If we educate a boy, we educate one person. If we educate a girl, we educate a family – and a whole nation."

The essence of education is to produce a responsible individual with the knowledge, skills and awareness to fit into our constantly evolving world. Education helps in developing the social sense to realise one's responsibilities as a citizen of our country. Therefore, providing the best instruction possible will help students realise their true potential and become future leaders, positively contributing to the betterment of society.

Empowering the female child is possible only through education. It begins on the benches of school, with quality education and access to culture and information. Education gives a woman freedom of thought. It empowers her to become economically independent. It broadens her outlook and makes her aware of her duties and responsibilities towards the society and the nation. This need for education of the girl child was recognized over half a century ago which gave birth to MDGHSS whose seed was sown in the year 1964. The curriculum of our school is based on the State Board of Tamil Nadu, with emphasis on the way we nurture students to bring out their best academic achievements.

Today, our prestigious institution boasts of spacious classrooms, a unique palatial library with over 12000 books, well-equipped laboratories and nine activity clubs to broaden students' perspectives. With a student population of more than 3400, our students have continuously excelled in academics and attained state-level ranks every year. Discipline is the strongest mantra imbibed in the minds and hearts of our students. It has had a significant impact on practicing values and behavior. Apart from adopting a technical approach in teaching, the passion shown by our teachers in imparting their knowledge has enabled them to understand students better. This, in turn, facilitates in bonding strongly and positively with students which has resulted in 100% results consecutively for the past 6 years. To encourage academic excellence, our magnanimous management offers awards and recognition for deserving students.

In addition to academic achievements, our students are fostered to excel in co-curricular activities. Various opportunities are provided for students to participate in, which paves a platform to have holistic development. Students are encouraged to take part in performing arts and sports at interschool, district-, state-level competitions. Our institution had the rare honour of sending students to participate in the Commonwealth Games.

Our school strives to create well-rounded, self-sufficient, independent and strong women by providing a strong knowledge base, by building pupils' character, by imbibing moral values, creating opportunities to mould students to become creative, innovative, enterprising and capable leaders and to be morally upright citizens.